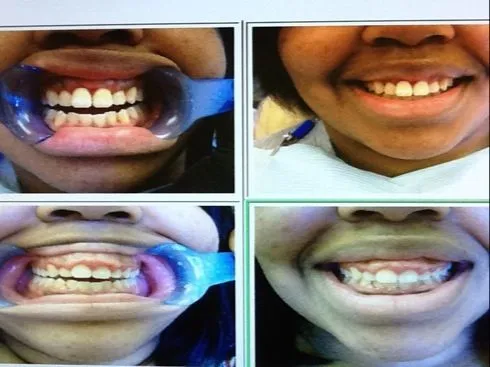 So as promised, here is our newly taken pictures of our "revealed" smile patient two weeks after her "Gum Plastic Surgery" (July 18th Blog Entry) along side her before photos! Wow! It is obvious that the improvement is not only dramatic, but the impact on this young women's confidence and self image is unmeasurable!
I believe that the real lesson from this story is that each individual needs a thorough and complete exam and diagnosis before the most appropriate treatment options are formulated. As it is obvious now, the correct diagnosis was that this young woman had to much gum tissue and only needed a "nip and tuck" procedure to achieve her esthetic goals. My job is to do just that and than educate my patients as to how the Art and Science of Dentistry can best help them realize their treatment (functional, esthetic or both) goals.
This transformation only required a few visits over several weeks, but in coming entries I will discuss additional cases where patient's selected the ideal course of treatment, but some of those upcoming dental journeys were measured in months and sometimes years. What is key to remember, is that it is always best to do what is right….and that's always my goal!
Comments: