Not every dentist is an expert on the placement and/or restoration of Dental Implants! For example, Dr. Gradwell and I have nearly 50 years of combined experience, we attend on average 8 days a year of continuing education solely related to implant dentistry, we both teach new dentists implant dentistry in hospital based General Practice Residencies, we lecture to our colleagues and we help restore our patients to normal function (and often esthetics) every week!
Dr. Gradwell is a Periodontist, who is not only an expert in the management of all the soft tissues of the oral cavity and maintaining a healthy relationship between one's teeth and gums, but has received extensive training in the placement and maintenance of dental implants. The picture below shows why the right set of skills and experience are important…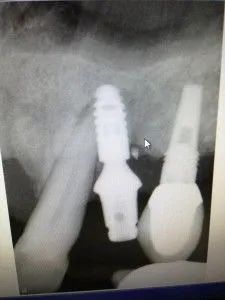 This X-Ray was provided by one of my dental residents. While an X-Ray shows only a piece of the story, in this instance it is a big one. The dental implant to the right appears on the film to be positioned appropriately, it would seem that there was still sufficient depth of bone so that a longer iimplant could have placed. A longer implant in this area (the upper front of the individual's mouth), would have allowed the actual implanted root substitute to have more length than the replacement crown and so a greater long term prognosis. The dental implant to the left is not only positioned at a severe angle, but appears to infringe on the adjacent natural tooth! A poorly positioned implant is nearly impossible to restore naturally and in this patient's situation it will cause the loss of the natural tooth as well! And this X-Ray reveals that there are no teeth to the rear of the infringed natural tooth, so what was the plan, if any, to restore function for this patient? What was the thinking to help this patient eat correctly?
My role on the team is to restore the dental implant(s) after Dr. Gradwell places them. We work together in concert to assure that each patient has a realistic plan and expectations. We do our homework to insure the maximum positive results and patient satisfaction. As a team, we are each involved in every step of the process and every patient presents unique challenges. Our remarkable practice boasts a near perfect success rate and many happy patients.
This second X-Ray is one of our patients from about 10 years ago. Not only is the position of the dental implant correct, but it is obvious to see for even the untrained eye that the length of the implant utilizes nearly all the available bone and parallels the adjacent natural teeth.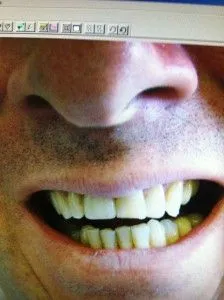 The properly placed dental implant allows me to create a natural looking and normally functioning cemented dental implant crown on a custom abutment (interface for the implant). After ten years, here is a happy patient where the implant restored tooth is a perfect match to it's natural neighbors. Experience, teamwork, followup and continuos learning have cemented our position as experts in our field. Please feel welcome to schedule a consult or email a question! We love helping others!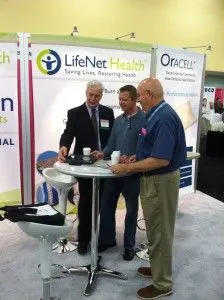 Comments: