The story starts in 1947, when my dad returned home from WWII after serving 5 years in the US Army. He had served as the dental surgeon in a 5th Army field hospital, finding himself in the thick of action in North Africa, Sicily and Italy.
Originally slated to be transferred to the Pacific for the invasion of the Japanese mainland, the war ended in late summer 1945 with the US Army using the A-Bomb. My dad's unit was redeployed to Greece to aid in the effort to bring stability to Europe as the cold war started to take shape.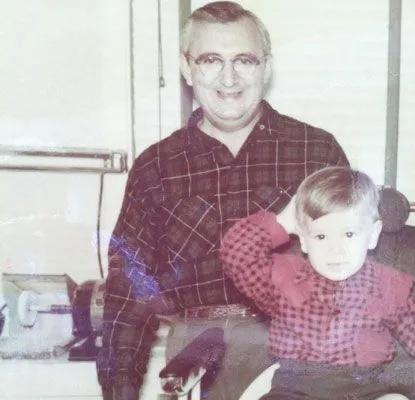 Dr. Freedman and has father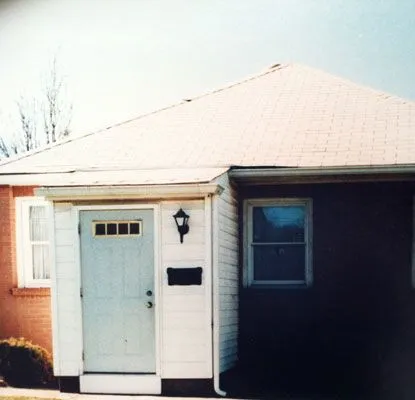 Office 1985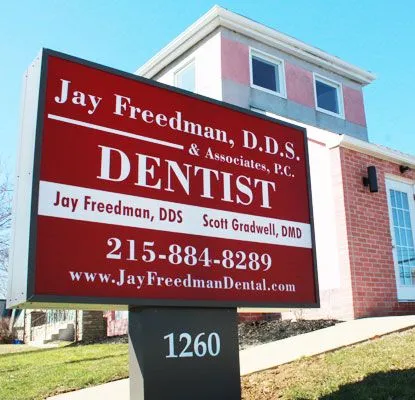 Office 2014
A native born Philadelphian, my dad Hy Freedman, decided after his return to move out to the country. In those days the country was "Roslyn". He picked 1260 Easton Road because the original civic plans called for a major train station to be where the Rite Aid is today. He opened a private practice in this county town and settled into a simple life for several years. Meanwhile, in Brighten Beach, NY (Cooney Island) where Hy's parents (my grandparents) lived my Grandmother while at her doctor's, was taken by an attractive brunette. When asked if she was single, Ruth Solomoff said yes, and my Grandmother said… you have to meet my son the doctor. Their first date (chaperoned!) was in March, engaged in May, married in June and I came along the following April (10 months for those of you counting)
I attended Roslyn Elementary School and graduated from Abington High School. I always wanted to be some sort of doctor. My academic studies were always in science and I loved working with my hands. Until age 17, I figured a surgeon then it occurred to me that I wouldn't be able to emotionally handle the passing of a patient, so I gathered my thoughts. What could I do that was medical, used my hand skills and didn't involve death….. Answer was a Dentist.
While my dad knew that I was going to be a dentist, he died suddenly in the middle of my first year of dental school (Temple). My friends and family called me to keep me on track. I know my dad would have wanted me to keep focused on school. I successfully completed dental school and decided I needed more experience. I found work in several places over the next 2 years including Lehigh County Prison where I meet a tall, beautiful redhead who turned out to be my future wife (not an inmate, she ran work release!)
I gutted my dad's old office and reopened it in spring 1980 with one treatment room. In 1983 I added a second treatment room. In 1985 a 3rd treatment room and finally in 1990 I gutted the entire building to its present configuration.
1990 to 2010 brought a lot of changes to the world of technology and dentistry. So in the spring of 2010, I once again invested in the latest technology to create a true 21st century dental office.
In the summer of 1988, a new dental school graduate, looking for part time work while he completed school to specialize in Periodontal Implants, walked into my office. I was busy, my second son was just born and my mom said he seemed like a nice young man. We talked awhile and I find him to be pleasant, but when he told me he had attended the same high school as my wife, it was a done deal. Dr. Gradwell and I have been working together since 1988 and specifically with advanced periodontal care and Implant s since 1990.
So that's how I got started here and how and why the office looks and feels like it does. We have a page where you can learn more about me, Dr. Gradwell and all my staff. We are all highly educated, highly motivated individuals that put your dental care and well-being first. I have plenty more stories…. just ask at your next appointment, I'll be happy to share.