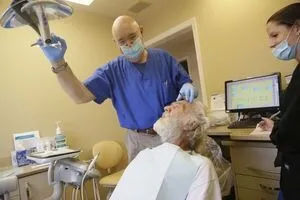 Dr. Jay Freedman, veteran William McNamee and EFDA Alyssa Shaeffer
Today we were privelged to treat some of our nation's heros, who have unfortunately missed out on a smooth transition back to normal life and in many cases wind up homeless, unemployed and lost. It is a blessing that there are social services watching out for many, but there isn't enough and dental care while important, isn't high on the list. Today, myself and several of my colleagues set about to make a difference!
Montgomery County Commissioner Dr. Val Arkoosh, Abington Dental Resident Dr. Ariana Mason, Dr. Jay Freedman and Montgomery County Commissioner Josh Shapiro and our honored guest!
Coordinating the community logistics was the Montgomery County Office of Veterans Affairs, headed by Mr. Sean Halborn. I worked in tandem with 2 other offices and between all 3, over $10,000 in dental services were provided. Another event is being planned for the spring and all of today's veterans will be followed up to ensure their care is completed. We are just getting started and really hope to expand this program!
Montgomery County Commissioner Josh Shapiro, an American Hero, Montgomery County Commissioner Dr. Val Arkoosh, Mr. Sean Halborn – Montgomery County Director of Veterans Affairs and Dr. Jay Freedman
Comments: